Electric Vehicle Charging
If you are looking to install a new EV charger, then contact us for a free quote today! Qualified to City & Guilds Level 3 2919-01 we cover all the key skills for a quality, reliable and affordable electric car charging installation, this includes site surveys, design, supply, installation, SMART control and maintenance.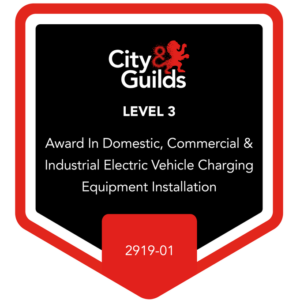 How long does it take to charge an electric car?
Charging an EV can be anything between 30-60 minutes and 8-10 hours. How long it takes to charge your electric car depends on the car's battery size, how many miles you do between charges, your charging behaviour and the power rating of the charger you're using. There are three main types of chargers:
Slow – usually rated up to 3kW is mainly used to charge overnight at home or workplace. Takes 8-10 hours to fully charge.
Fast – rated at either 7kW or 22kW and can usually be found in car parks, supermarkets, leisure centres. Takes 3-4 hours to fully charge.
Rapid – typically rated from 43kW and found at motorway service stations, petrol stations, supermarkets. Takes 30-60 minutes to fully charge but is only compatible with rapid-charging function EVs.
Electric car charging cables
Charging cables have connectors you plug into the electric car and/or the charge point. What type of charging connector you use depends on your car and the power rating of the charge point. Here are five charging plugs used in the UK.
UK three pin plug
Power rating of 2.3-3kW AC, Single Phase (Standard Charge):
Approx 5 miles range per 30 mins of charging
Standard UK domestic electricity outlet
Not designed for prolonged use needed to fully charge an electric car
Very slow charging with a maximum power output of 3 kW
Type 1 plug
Power rating of 3-7kW AC, Single Phase (Slow/Fast Charge):
Approx 12 miles range per 30 mins of charging
Only available in single phase
Less common in modern electric cars
Has no locking mechanism when the car is connected to supply
Type 2 plug
Power rating of 3-42kW AC, Single Phase/Three Phase (Fast Charge):
Approx 75 miles range per 30 mins of charging
Becoming the standard European charging cable connector type
Compatible with both single and three-phase electricity supply
In-built locking mechanism when connected to the power supply
Tesla has a 120 kW DC version of type 2
CHAdeMO plug
Power rating of 50kW DC, Three Phase (Rapid Charge):
Approx 85 miles range per 30 mins of charging
Older type of charging cable connector for rapid charging
Compatible with Japanese vehicle manufacturers
Most common rapid connector type due to the popularity of the Nissan Leaf
Combined Charging System (CCS) plug
Power rating of 50-350kW DC, Rapid Charge:
Approx 85-200 miles range per 30 mins of charging
The most versatile rapid charging connector
Likely to become the most popular DC connector standard
Enables a higher power rating to support larger ultra rapids chargers